Honestly, if I opened a wrestling themed bar I'd call it NO HOLDS BAR
ARE MARVEL COMICS CINEMA
(the below is excerpted from my op-ed in the New York Times)
A bunch of people are debating this question: Are Marvel Comics cinema? In a lot of ways, it's a question that defines our times, which are stupid. Now, I'm clearly an expert on Marvel Comics, but I also happen to consider myself an expert when it comes to cinema, having watched many movies. In fact, if you ever go with me to see a movie, you'll soon discover my expertise as I regale you with really interesting movie trivia throughout the screening ("That parking lot was also featured in Deadpool 2 as a digital recreation." "That actor was in the previous scene.").
So, who better than me to wade in on this topic? There are a lot of things to consider, so bear with me as I hit my word count.
First of all, comics don't move unless you physically move them yourself. Cinema does. In fact, it's one of its defining characteristics. Cinema is like watching moving and talking giants trapped in a box. Whereas comics are like tiny, frozen people trapped in different boxes.
Second of all, you need to read comics. Cinema doesn't require reading. I know what you're thinking. "But Chip, what about movies with subtitles?" Well, you got me there. Or did you? I don't believe that movies with subtitles are movies. In fact, I like to call them "motion comics."
But what about the similarities? Fifty percent of Marvel comic books feature Spider-Man, and fifty percent of movies also feature Spider-Man. A movie ticket costs fifteen bucks. So does a Marvel comic. Both are consumed with popcorn. I know that these examples make it seem like Marvel comics and cinema are interchangeable, but ask yourself this: are they? No, they're not.
Thank you.
WHAT'S NEW WITH CHIP
This week DAREDEVIL #13 comes out! It's the one where Wilson Fisk wins the County Fair Pie Eating Contest, but at what price?
Marco and Nolan make beautiful images. You can really feel the burden of winning that contest here:
And hey! There's a beautiful hardcover Italian Artist Edition of issue one in black & white! Apparently you can order it?!

COOL COOL I LOVE ITALY WHAT ELSE
Well, readers are digging AFTERLIFT, my new book at ComiXology! A lot of people are spreading the rumour that issue one is sold out, but I'm here to tell you that's actually impossible because ComiXology swore to me that they created hundreds of thousands of files to meet digital demand. So, go check it out!
Also, UNDISCOVERED COUNTRY #1 comes out this week! It's the hot new Image book from the scoundrel Charles "I'm a Lawyer I Swear" Soule" and friends. I did a variant cover, which you can get here! It's RARE or something.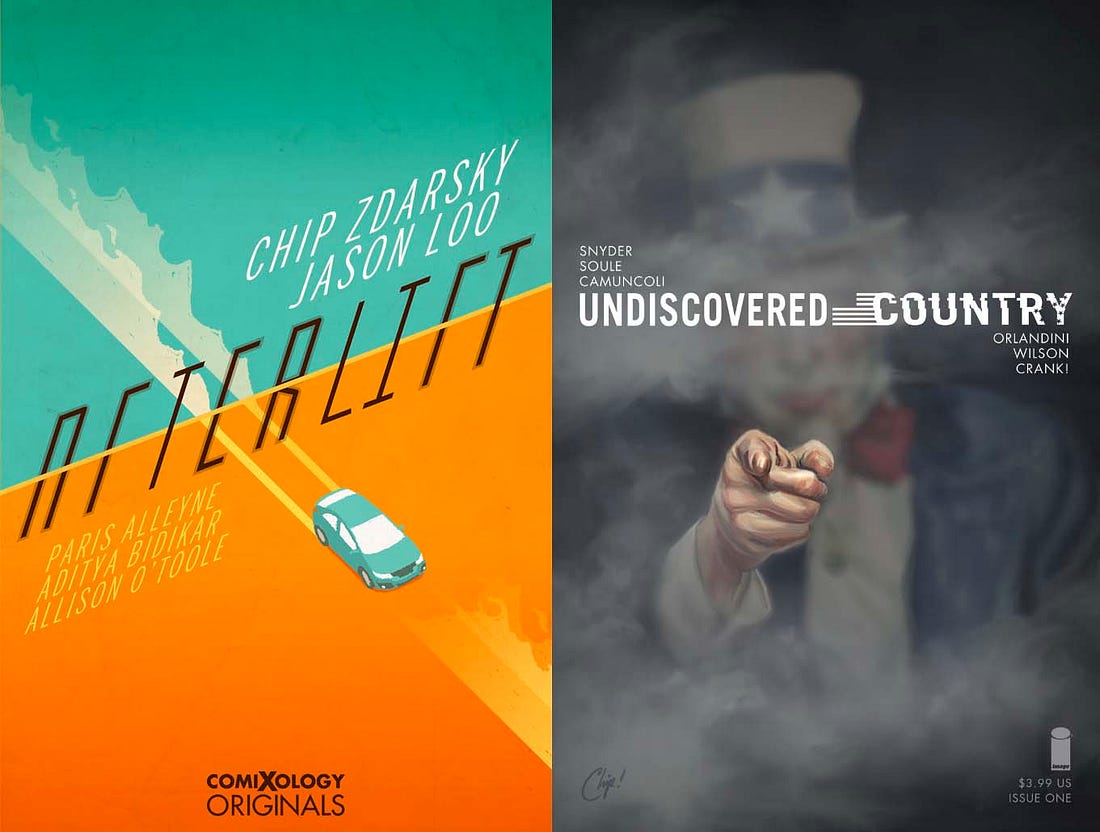 OKAY COOL SO WHAT ELSE IS NEW IN YOUR WORLD OF CEASELESS PROMOTION
Glad you asked! I was on WAR ROCKET AJAX again! Last time I was on, I coined the hot new phrase, "chomp and suck," so check it out and see if I outdo that!

CHIP ANSWERS QUESTIONS
Every week I'll answer one POLITE and RESPECTFUL question about my life as a cinephile or about my work. The email is zdarskyletters@gmail.com.
Do you have bigger muscles than Ryan Stegman? The fans need to know!
-Brody
Thanks for the question, Brody. I like to make sure that my newsletter is always honest, because you, the fans, deserve that. So, it saddens me to tell you that my muscles are not as big as Ryan's. But, if you've ever sent him a single text and he responded, you'll know that his muscles are not in the right places. His pectorals are incredibly high, and his abs are spread apart, like the solar system. His biceps live up to their name as each arm has two of them. I know your instinct right now is to laugh, but it's not funny. I'm actually pretty worried about him.
Also, interestingly enough, famed Venom writer Donny Cates has bigger muscles than even Ryan, on account of having to lift him up for the past couple of years.
Take Care,
Chip