You all think you're so tWiStEd but I'M going to be Joker for CHRISTMAS
I GUESS I'M DONE
So, as you know, my newsletter has made a lot of waves since its debut four weeks ago. But, it's also made me a lot of enemies. Besides the fat cats in Hollyweird who don't know how to handle this level of "disruption," apparently I've also managed to piss off the medium kittens of Comicsland. Was it the gentle poking of Marvel Comics "artist" Ryan Stegman, who, while completely friendless, has managed to draw the new Mr. Carnage and his Carnage Crew series to great acclaim (money)? Was it my incendiary Batman script where I spanked that billionaire creep within an inch of his wife (Catwoman, one day!)? Was it my bad writing?
Honestly, it's impossible to nail down. But all I know is, I have no comics out this week.
Even after all these years of top-notch comic promotion.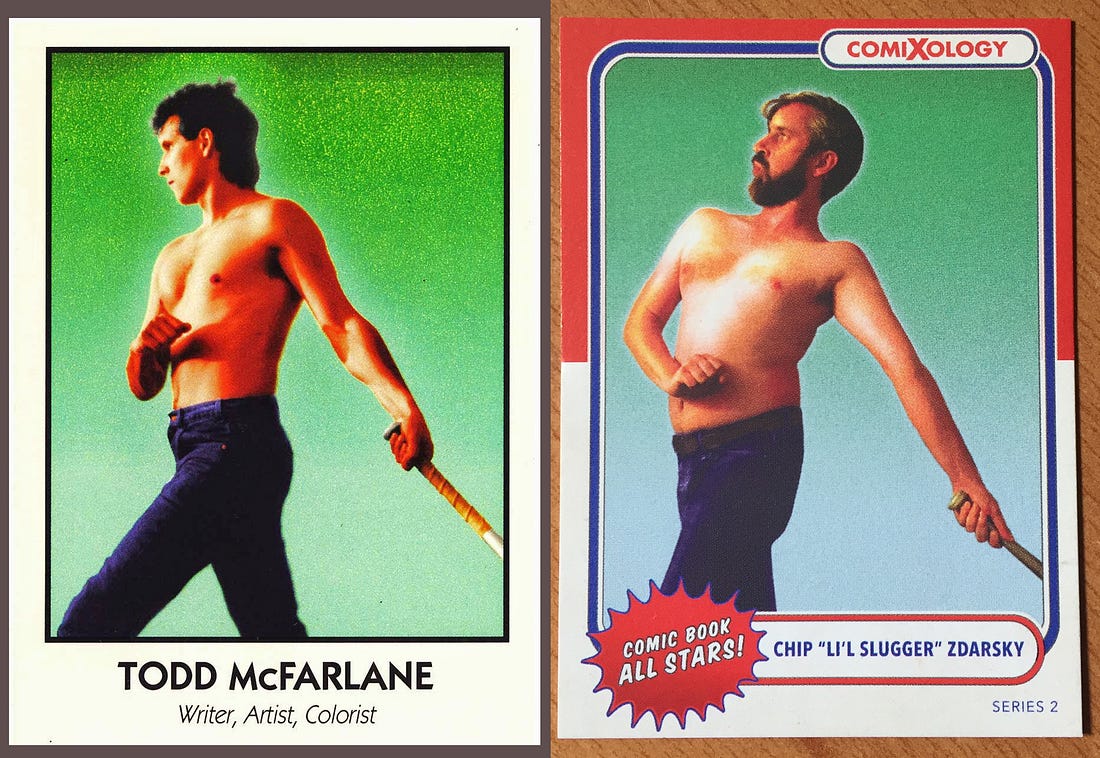 WHAT'S NEW WITH CHIP
Holy shit I just TOLD you! Nothing! I'm DONE in this industry!

NO REALLY WHAT'S NEW
Hmm, fine. I guess it's okay for me to talk about future secret projects, teasing you with little clues while revealing almost nothing except for my excitement at the job.
This weekend I was working on … let's call it … "PROJECT INTEREXTING."

PROJECT INTEREXTING
I can't reveal the company, or how long the series is, but let's just say, between you and me? It's been MARVELOUS to work on and I'm eating a DOZEN doughnuts right now which is UNHEALTHY.
Last week I had a conference call with The Publisher and various editors about it. I used a free conference calling service which just shouts advertisements at everyone every thirty seconds, but I didn't find it too distracting since the ads were for "zdarsky.subtack.com." I told the group of editors on the call my ideas and they all gasped, one maybe even moaned.
"Ladies & gentlemen, I'm changing the DC Universe with this one," I said, even though the project was not at DC. It's just so big that the effects will be felt at other comic companies for years to come. Fantagraphics books will get even sadder, Image books will no longer be about fantasy worlds.
The Publisher screamed into the phone, right over top the jingle of "substack / isn't sexual pancakes / it's more like emailing earthquakes / of content / from chip / (sign up to zdarsky.substack.com today)." He said, "We can't change the CENSORED Universe forever! Fans will never accept it! You're fired!"
I shot back, "Hmm, no, I think you're fired." And just then The Publisher looked down at their desk and there was nothing on it and security was escorting him out. A new, younger Canadian The Publisher walked in the room and sat down as if nothing had happened.
The rest of the editors fell in line pretty quickly after that and managed to commission fourteen variant covers before the call had ended.
Now all that's left to do is write the script. Easy.
Staty TUNED for more info about PROJECT INTEREXTING.
WHAT'S NEW WITH NOT CHIP
With the cancellation of The Wicked + The Divine, famed comic artist Jamie McKelvie is figuring out his life and the choices he's made. Can he survive this world without a regular gig? Can he order a tuna sandwich without drowning in sweat?
Some of these questions will undoubtably be answered at chipsbestfriend.substack.com so you should sign up to see a man try to make it in this crazy world.

CHIP ANSWERS QUESTIONS
Every week I'll answer one POLITE and RESPECTFUL question about my life as a firefighter or about my work. The email is zdarskyletters@gmail.com.
'Sup Chip!
Do you watch Marvel movies?
Best,
Hector
Yes.
Love,
Chip